Q: What does your job entail?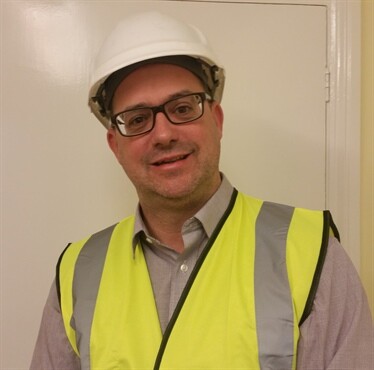 A: In a nutshell my job involves three main areas.
1. The first is ensuring staff operations are running smoothly. This means that my first job of the day is to check all divisions are fully resourced and ready – Mechanical and Electrical (M&E), the Powered Access Hire division, Construction Equipment Hire and our Training Division, which offers IPAF and PASMA training for the London area.
2. Secondly, I am responsible for carrying out daily health and safety checks at the main depot and in the office.
3. And, thirdly, I am there to respond quickly and efficiently to any operational issues that occur with clients over the day.
Q: What has been the biggest change that you have seen in plant hire since you started?
A: Our company has grown rapidly, particularly over the last 15-17 years and, as we have grown, we have really had to focus on health and safety issues and we have invested heavily in training both for myself and the staff. In so doing, we have built a solid reputation for health and safety and now offer a full range of IPAF training and PASMA training to our clients across the London area.
Q: What are your favourite aspects of the job
A: My favourite part of the job is 'the people'. We have a great staff team and regular clients we have been working for, for years. I get a real buzz when I know I have a good, really motivated team to work with.
During a typical day, I'll have regular contact with our four managers – Paul, Zoe, Osh and Adam (our Training Manager) but I'll probably end up speaking to most of our 70 strong staff at least once a day.
I like what I do. They're all good people, it's a good place to work and a very good industry to be in.
Q: What are the least favourite aspects
A: It's probably having to be on staff's case when it comes to timekeeping and attendance etc. Nobody likes having to enforce disciplinary measures but it comes with the job.
You might have expected me to highlight health and safety as a negative but I really believe that it's not a pain. Quite the opposite. It's there for a reason – to keep people working safely not stopping them working. Plant hire in the UK is generally a safe industry. We are also good at it at Mr Plant Hire and it provides a genuine income stream for us, keeping people gainfully employed.
Q: Can you think of one of the funniest incidents that have occurred whilst doing the job?
Funny things happen all the time and they bring people together. There have been quite a few incidences of predictive text resulting in x-rated texts about machinery but I'll leave that to your imagination.
I do remember there was once occasion when a driver arrived at our Depot to sort out an exchange of a drill because the chuck had broken. He arrived asking for Mr Chuck Broken! That was quite funny.